Paresh Trivedi
Know More About Him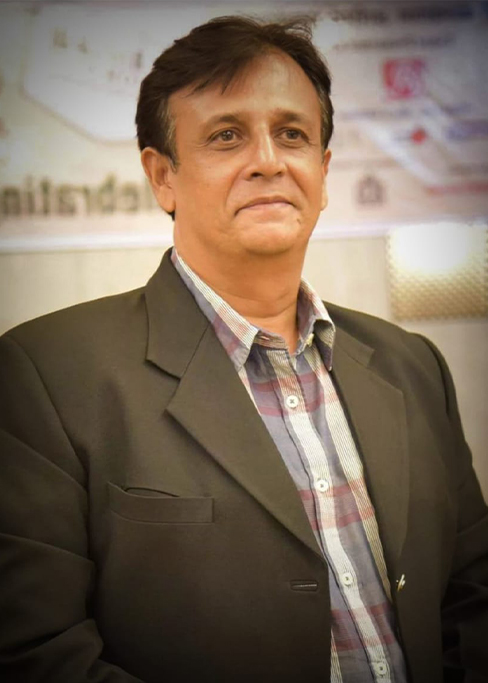 A Visionary Entrepreneur Redefining
Business Success
In today's fast-paced and ever-evolving world, the spirit of entrepreneurship burns brightly in individuals who dare to dream and transform their visions into reality. One such remarkable individual is Paresh Trivedi, a visionary entrepreneur who has spearheaded multiple successful business ventures and is making waves across various industries. With a keen eye for innovation, relentless determination, and a passion for excellence, Paresh Trivedi is redefining the boundaries of business success.
At the helm of his ventures, Paresh Trivedi has built a formidable empire that encompasses The Neostar multimedia production, Digihost web solutions and marketing, Foodbizz food outlet brand creations and franchise distribution, and the esteemed Combo Jumbo chain of vegetarian restaurants. Each of these ventures stands as a testament to Paresh's unwavering commitment to delivering exceptional products and services while creating sustainable and profitable business models.
The Neostar, under Paresh Trivedi's astute leadership, has emerged as a powerhouse in the multimedia production industry. With a team of creative experts and cutting-edge technology, The Neostar has produced groundbreaking content that captivates audiences across various platforms. From captivating films and documentaries to engaging web series and commercials, The Neostar has set new benchmarks for quality and innovation, leaving a lasting impact on the entertainment industry.
Digihost, another brainchild of Paresh Trivedi, has revolutionized the web solutions and marketing landscape. Recognizing the growing importance of a strong online presence, Digihost offers comprehensive web development, digital marketing, and branding solutions to businesses of all sizes. Through their strategic approach and deep understanding of the digital realm, Digihost has empowered countless businesses to thrive in the online arena, driving growth, and maximizing their potential.
Paresh Trivedi's venture into the food industry is no less impressive. With Foodbizz, he has carved a niche in the market by creating exceptional food outlet brands and effectively distributing them through a franchise model. Foodbizz combines the art of culinary excellence with meticulous business strategies, providing aspiring entrepreneurs with a turnkey solution for establishing successful food outlets. From conceptualization and menu development to staff training and marketing support, Foodbizz empowers franchisees to deliver exceptional dining experiences to their customers.
Paresh Trivedi is more of a source of ideas, who has created numerous F&B brands, over the years. He has been the torchbearer for many brands that, once were trapped between hurdles, but now flourishing and achieving new heights with proper guidance. With an aim to take the HORECA industry in India to an unscalable height, Paresh is now mentoring and guiding enthusiasts from varied industry who has a keen interest in starting and running their own restaurant.
Among Paresh Trivedi's portfolio of successful ventures, Combo Jumbo stands tall as a testament to his passion for exceptional vegetarian dining experiences. With a focus on culinary innovation and outstanding service, Combo Jumbo has become a go-to destination for vegetarian food enthusiasts. From cozy cafes to vibrant fine dining establishments, Combo Jumbo offers a diverse range of experiences that celebrate the richness and flavors of vegetarian cuisine.
What sets Paresh Trivedi apart is his unwavering commitment to excellence and his ability to identify and capitalize on emerging trends. His ventures not only excel in their respective industries but also reflect his dedication to creating sustainable businesses that positively impact the communities they serve. With a focus on customer satisfaction, employee empowerment, and ethical practices, Paresh Trivedi sets an example for aspiring entrepreneurs and established business leaders alike.
In recognition of his remarkable achievements, Paresh Trivedi has received numerous accolades, including industry awards and recognition from his peers. His passion, drive, and ability to navigate challenges with poise have earned him a reputation as a trailblazer in the business world.
As Paresh Trivedi continues to expand his entrepreneurial endeavors, one can only imagine the remarkable ventures that lie ahead. With his relentless pursuit of excellence, innovative thinking, and ability to adapt to evolving markets, Paresh Trivedi is poised to leave an indelible mark on the business landscape for years to come.
So, keep an eye out for Paresh Trivedi and his ventures as he continues to redefine what it means to be a successful entrepreneur. The future is bright, and with his visionary leadership, Paresh Trivedi is sure to lead the way into a new era of business innovation and success.
Paresh Trivedi